Fidalgo Bay Aquatic Reserve Citizen                  Stewardship Committee
By Pete Haase, FBAR CSC Chairperson
That's a mouthful of a name for a small group of volunteers working to protect an important natural resource right here in Skagit County, the Fidalgo Bay Aquatic Reserve. So, let's dive into that name and see if some of you will be inspired to join us and become Citizen Stewards.
Fidalgo Bay
We all pretty much know Fidalgo Bay; the body of water lying between March Point and the east shore of downtown Anacortes, all the way down to State Route 20 at the south end.  The Tommy Thompson Trail follows the route of the old railroad tracks that served Anacortes from the 1890s to 1970s. The trail provides public access to the bay following the shoreline from the east end of 34th street down to the Fidalgo Bay Resort (RV park), and then out over the bay onto the railroad trestle to the March Point shore.  A beautiful place to walk and enjoy spectacular views of the surrounding community, mountains, as well as a host of birds and other wildlife.
Aquatic Reserve
Here is a not-so-familiar term perhaps.  Aquatic Reserves (there are eight in Washington) are areas of state-owned aquatic lands and bodies of water that are managed by the Washington Department of Natural Resources.  An aquatic reserve can be proposed and adopted because it has great potential as habitat hosting a broad diversity of flora and fauna.  Our local Fidalgo Bay Aquatic Reserve supports great blue herons from a large nearby colony on March Point, has large eelgrass beds that nurture and nourish aquatic life in the bay, and both the shoreline and eelgrass provide spawning grounds for forage fish.  It's a great place for birds as well, who are attracted to Fidalgo Bay by the abundant food sources that can be found in its varied habitats, including eelgrass, mud flats, emerging salt marsh, and sand/cobble/gravel beaches.  Cyprus Island (Skagit County) and Cherry Point (Whatcom County) near Bellingham are other nearby state aquatic reserves.  Reserves all have extensive management plans but no unique restrictions on use.  Visit aquaticreserves.org, a nice website about all eight of Washington's aquatic reserves.
 Citizen  
"A native, inhabitant, or denizen of a particular place." The denizens of Fidalgo Bay in our FBAR CSC group are members of the public and volunteers, and there are currently nine of us engaged in this stewardship effort.
Stewardship  
A steward watches over and helps care for, in this case, an aquatic reserve.  The management plans for all aquatic reserves call for stewardship (by citizen committee) that promotes, encourages and enables science in the reserve.  Our team works with volunteers who do forage fish surveys and beach monitoring and inventories, and assists numerous other science efforts.  The plan also calls for stewardship that develops and delivers education about the reserve.  Effects of storm water is one of our current emphasis areas.  The committee has worked closely with WA DNR to install signs identifying and providing information about the Fidalgo Bay Aquatic Reserve along the shore and across on the trestle. Finally, the plan requires stewardship to stay aware of proposed activities that might affect the reserve and directs us to review them and submit comments as necessary.  The work to create the round-about on Highway 20 at Sharps Corner is one we are currently involved in with regard to potential stormwater impacts to the bay.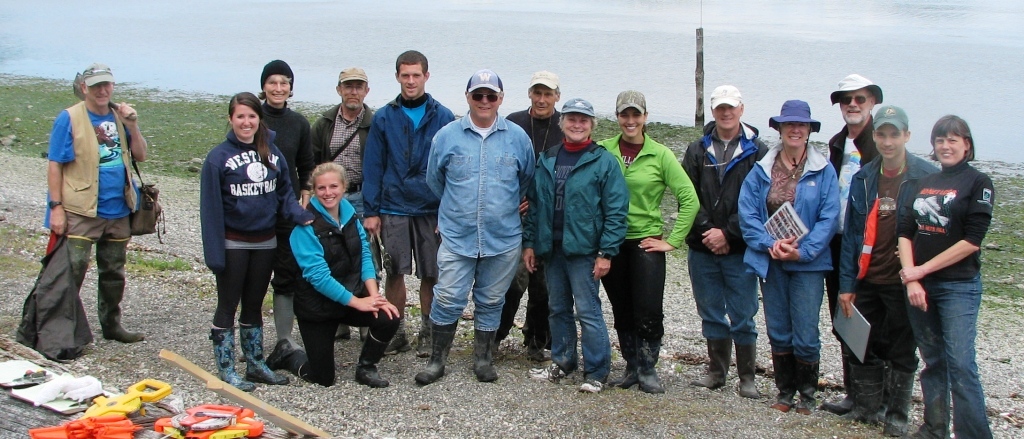 Committee  
Yes, we meet, talk, plan and listen once a month for two hours.  We do follow some rules, have a chairperson, keep minutes, and abide by an agenda.  Representatives of the Washington Department of Natural Resources Aquatic Reserve program and other organizations frequently join these meetings to foster a close working relationship between the state aquatic lands managers and the local community.
We provide a quarterly report of activity to the Department of Natural Resources Aquatic Reserves program and it is always full of results that we are pleased to share.  Members of the committee get involved and sometimes lead efforts that they are interested in, or maybe stand on the sidelines for things they are not so keen to take an active role in.  We receive assistance from support staff from the Department of Natural Resources and ReSources for Sustainable Communities (Bellingham), as well as having a budget for supplies, extra help, and educational materials.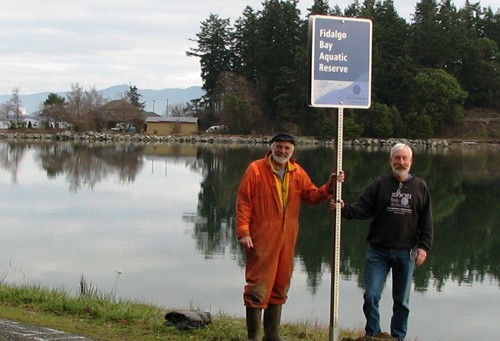 Our work and ability to make a difference as citizen stewards is only as good as the effort of the volunteers on the committee.  We always need more help and volunteers to serve on the committee or get involved with specific activities. So, we strongly encourage you to sign up and serve as a Citizen Steward with the Fidalgo Bay Aquatic Reserve Citizens Stewardship Committee (whew!).  We will help you find ways to participate in areas that match your abilities and talents, and help you make a difference in our community.   Fidalgo Bay is a great place to protect, promote, and take care of!  You can contact us at This email address is being protected from spambots. You need JavaScript enabled to view it. to let us know of your interest.
Those who can, do. Those who can do more, volunteer!