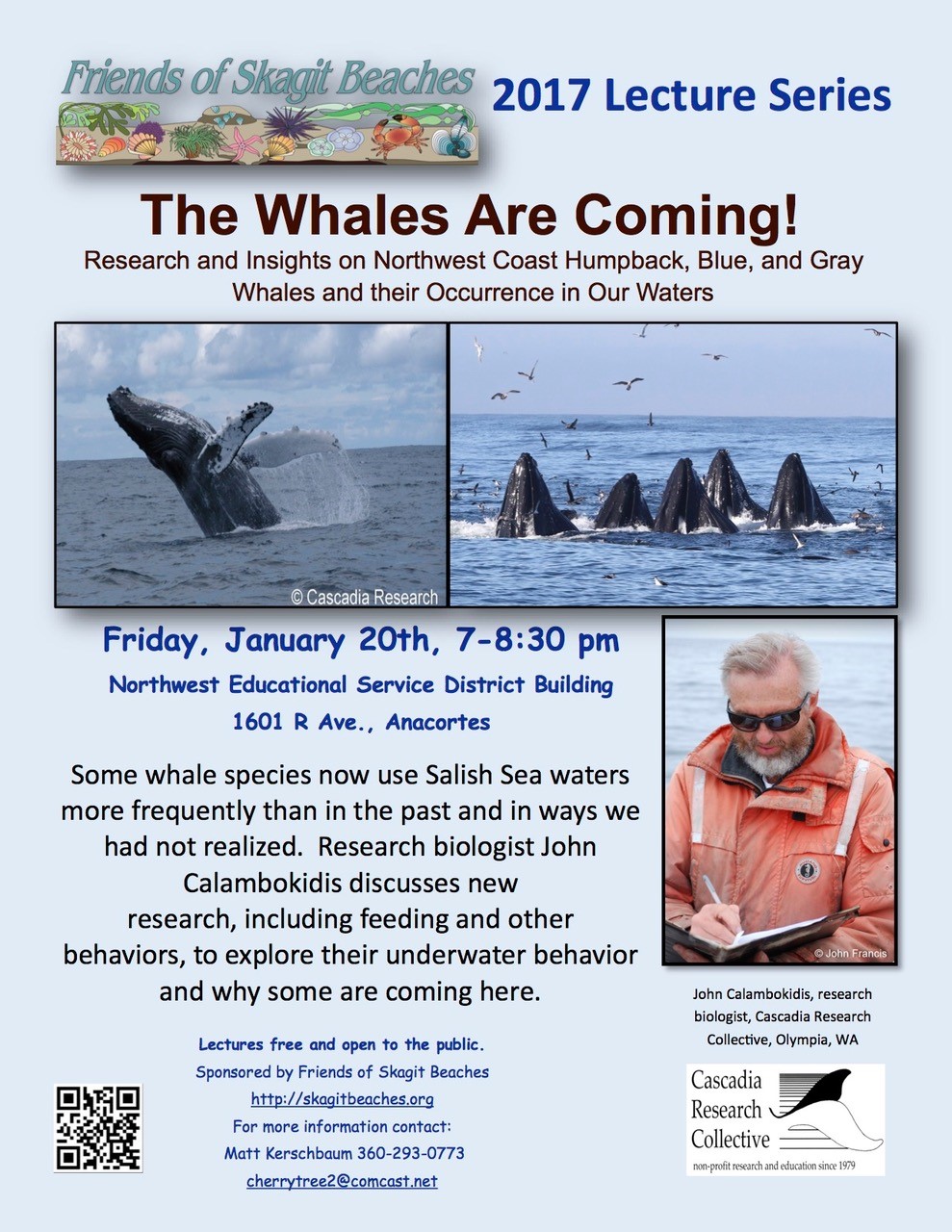 The Friends Lecture Series volunteer team has hit another one out of the ballpark!  The 2017 season was a record-breaker in total attendance for the year and for the highest attendance ever at a single lecture.  The season opened with an audience of 290 crowding into every nook and cranny of the Reid Harbor Room of the NW ESD Building to hear "Research and Insights on Northwest Coast Humpback, Blue, and Gray Whales and their Incursions into the Salish Sea" by  John Calambokidis, research biologist, Cascadia Research Cooperative, Olympia, WA. This gave our planning team a bit of heartburn as we were worried about having to find yet another larger venue.  Fortunately, attendance at the following lectures dropped back to more normal levels (110 – 172) ending with a new record of 696 attendeesfor the season.
Obviously the community values the Lecture Series during the long winter months.  Audience evaluations confirm that with praise such as . . . "This was excellent. . . . Fantastic! . . . I learned a lot. . . . Great photos, dynamic speaker!  . . . The series is very useful to the community. . . . We appreciate the ease of seating for wheelchairs. . . . Like the lectures although I don't understand everything - stretches your mind."  Well guess what?  It stretches our mind too!
The volunteer team is taking a break over the summer but keeping their eyes and ears open for speaker candidates for the 2018 lecture series.  The dates for 2018 have already been selected:  January 19, February 16, March 16, and April 20.  We're sure the 2018 season will again deliver high-quality educational presentations to an enthusiastic audience.  This year our volunteers "reported" 203 hours of time putting on the 2017 lecture series, which of course is less than the actual amount.
Friends would like to thank our project lead, Matt Kerschbaum, and the many others on the volunteer team who make this community event possible each year.  There are several ways volunteers support the project, including the planning team that selects and organizes the excellent speakers, the "Tiger Team" that comes early and stays late to setup and put away chairs and tables, and the kitchen crew who bake cookies and brew coffee for our audience.  Special thanks to Liz Huseby for organizing and baking fresh cookies, which helped the series bring in enough donations to cover costs and set aside a little for next year.
We're looking for a few additional volunteers for the 2018 season, so if you're interested in getting involved, please email us at This email address is being protected from spambots. You need JavaScript enabled to view it. let us know.  We'll put Matt in touch with you and get you tied in with a great group of volunteers who are dedicated to making the lecture series a great event every year – and having a good time while they do it.
Thanks to our amazing Lecture Series volunteer team!